Novel Containment - A Coronavirus (COVID) Story
A downloadable game for Windows and macOS
A new virus has been spreading. You are in charge of quarantine efforts at a public transit station. Examine passengers and quarantine ones displaying fever symptoms.
Will you report your accurate case numbers and risk inciting public panic? Or will you under-report your numbers and risk your own life? Manage the crisis one day at a time as you try to beat the outbreak before it gets out of hand.

Features:
Simple Mouse-based Gameplay
Exploration of the crisis from a novel perspective
Included companion guide with tips on quarantine life and mini-games
====================
If you can, please consider donating to the game. I will be donating a portion of the proceeds to the U.N. COVID-19 solidarity fund in order to help contain this virus. Your donation will also help support the development of this and other games.
https://covid19responsefund.org/
========================
About the Creator: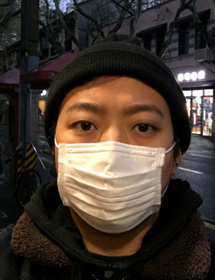 My name is Mike Ren, I'm an Asian-American Game Designer currently living in Shanghai, China. This project started on January 26th, 2020 during the beginning of the coronavirus outbreak. At the time, we were traveling for the Lunar New Year Festival, when we were abruptly told to return home. After returning to Shanghai, we were on lockdown from February until May, only leaving to get food and necessities. Today, things are just starting to recover here.
This game is a documentary of China's response in the early days, but also a personal reflect on the crisis around the world. Although every country is reacting to the situation differently, there are many similarities and challenges we face as humans during this time.
I hope that playing Novel Containment will give you a new perspective on the challenges facing us all as we continue to fight the virus in an interconnected world. Thank you!
Download
Click download now to get access to the following files:
NovelContainment_Mac.zip
28 MB
NovelContainment_PC.zip
28 MB
Comments
Log in with itch.io to leave a comment.
Hi there! For mac or PC? I believe that they should be. Let me know if it doesn't open.
PC sir! but my computer is kinda Low END.
Gotcha! I'd say try it out on the low setting first. It is a bit cpu intensive cause there's a lot of people you have to quarantine in the game.
Stay safe and wash your hands :P !