Night Flyer : A Bat's Journey
Night Flyer v1.1 (MOBILE SUPPORT ADDED)
---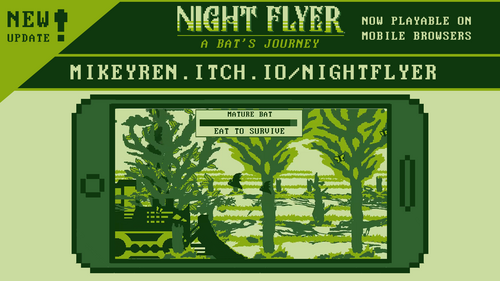 Hi everyone!
I'm happy to announce that TOUCH CONTROLS is now officially supported in Night Flyer! Tap to flap and try to survive. Play the new version on your phones or tablets and let me know what you think! Personally, I like the game even better on the phone.
Additionally, the END CUTSCENE has been updated to reflect the next chapter of this game. Check it out by playing or replaying through the first chapter of the game. If you find any issues with this version please free free to comment below.
Major Changes:
Added Mobile Touch support for Story, Timed Challenge, and Educational Page
Updated End Cutscene in Story mode
The education page has a few text updated to reflect new information. (Natural predators, etc)
Added social share buttons to the main page (This seems to only work on computer browsers right now)
Bugfixes:
Fixed an issue with the partner bat audio not correctly playing when eating.
Adjusted the audio levels for gameplay, flap sounds and eating sounds should be better balanced.
Removed some of the trees in the background that were cropping weird.
Fixed an issue where you could still control the bat even after death....
Other Changes:
The main menu music has been updated!
Removed Mike's high score, now the high score is your own! However the default value to beat is still mine :P
What's next?
LOCALIZATION IS COMING! I've had the fortune of being in contact with a few people who are offering to help translate the game. Currently Spanish is the next version with full localization, if you would like to contribute a different language, please feel free to DM me @mikerenyi or email me at Mikerenyi@gmail.com.

Thank you for playing and sending some 🦇 💕
- Mike Ren
Files
batfinal.zip
Play in browser
May 12, 2020